The Group that Studies Together Stays Together: Group Learning for Professional Development
Lantana is a distributed company, meaning all employees work remotely. Working from home has a lot of advantages: cost savings for both the company and employee, a smaller carbon footprint due to lack of a commute, and never having to wear real pants again (okay, sometimes we change out of our pajamas). Unfortunately, working from home has one big disadvantage: lack of social interaction with coworkers.
Lantana works hard to improve everyone's social wellness and connection to the company and to each other. In 2018, Lantana created an Affinity Group program to provide employees an opportunity to collaborate on key strategic initiatives and help them feel more connected by sharing their common interests. What started out as a few informal groups turned into the six Affinity Groups we have today: Analytics, Clinical, Program and Policy, Public Health, Technical and Standards, and Process Improvement. You can view each employee's Affinity Group membership on the Lantana website.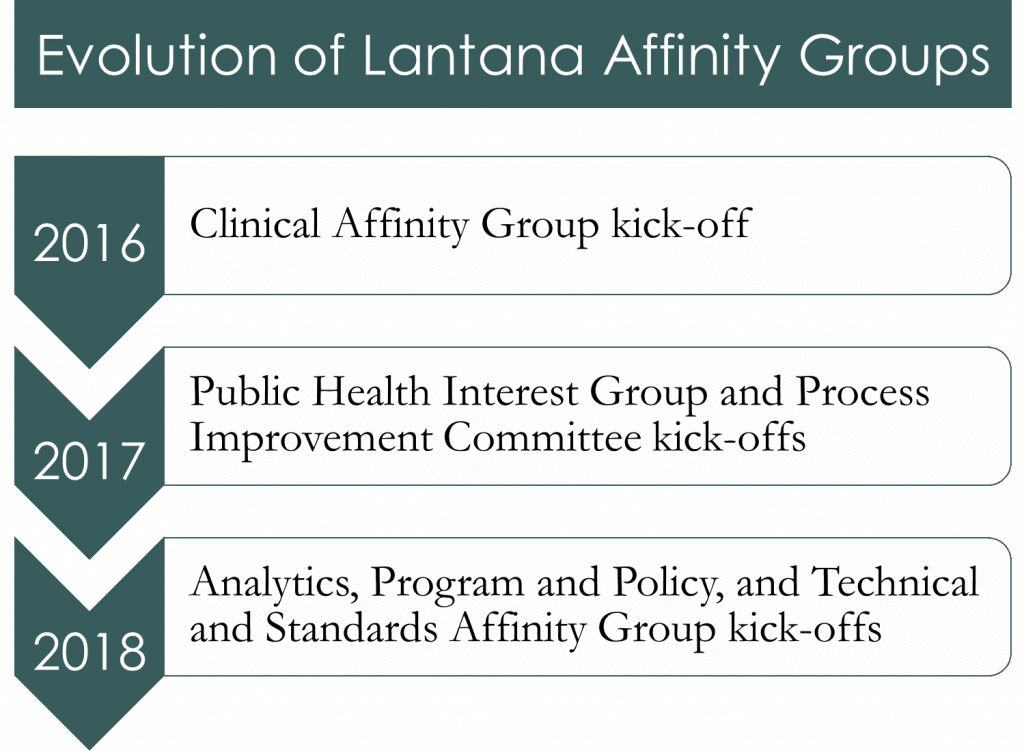 The Public Health Interest Group (PHIG) aims to create a public health brain trust at Lantana by sharing knowledge and experience gained via employees' involvement in public health related work. PHIG recently conducted a survey of its members to identify better ways to share knowledge through professional development opportunities. After tallying the responses, two common interests emerged: courses and conferences.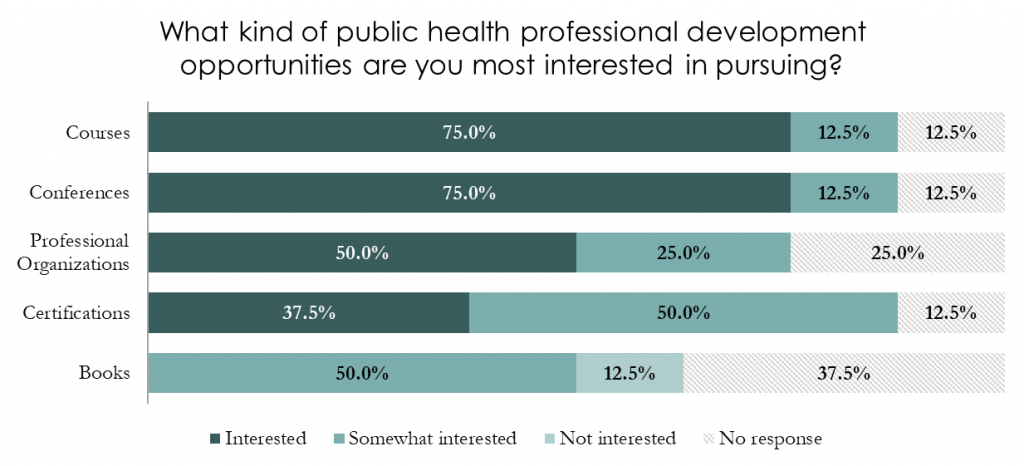 Lantana's budget and project work dictate conference attendance, so PHIG decided to take a course as a group using the online learning platform Coursera. The PHIG leads, Amy Webb and Heather Dubendris, presented a few course options for the group to vote on. Heather, Erin O'Leary, Hector Cariello, and I (Laura Blum) opted to pilot "group learning" and take the Interprofessional Healthcare Informatics course by University of Minnesota together to connect with each other and improve our knowledge of the language used to communicate public health informatics outside of Lantana.
Together, the four of us came up with and executed a plan for the course: we created a Slack channel to discuss the course, decided on a timeline for course completion, scheduled regular check-ins to keep everyone engaged and accountable, and reported out to the company following course completion. Everyone liked the "peer pressure" aspect of group learning and the accountability of regular check-ins. Taking the course as a small group made learning more engaging and approachable. The four of us came out of the course with a better understanding of the topic and of each other's capabilities (and some inside jokes).
Since the group learning pilot was a resounding success, PHIG decided to offer another group learning course and roll out the group learning model to the other Affinity Groups! Rumor has it the Analytics Affinity Group is already eyeing a user-centered design course. Lantana hopes this group learning model can benefit other remote businesses – after all, telework seems to be the future.