Lantana 2020 Retreat: This Time It's Virtual
The planning for our annual Company Retreat this year started out just like every other year. We had our dates and our location, and we were working on logistics (food, daytime activities, nighttime activities, room accommodations, meeting room details, etc.). Then COVID-19 came. We continued to press forward with planning, since we were still several months out and did not know what the future held. In July, with our deposit in jeopardy, the company decided to pull the plug on our beloved Tucson venue and instead have a virtual retreat.
Virtual? Wait…What? What does that even mean? After seven years of planning in-person retreats, I had a hard time wrapping my head around a virtual retreat. How could we pull 50 people—from Bahrain to Brisbane— together for a week of meetings? Sure, we knew how to hold virtual work sessions, we have worked remotely for 15 years—but how would we create those non-working hours together? What kind of activities should we include? How would we have social time? We still wanted to be connected even though we were all very far apart. Our CEO, Liora Alschuler, wanted to keep the flow of this new, virtual retreat as close as close as possible to the flow of the in-person retreat—morning meetings, lunches, activities, afternoon meetings, and then social time. So, I went to work…with a little help!
Meetings—working time, and we do work—I knew would fall into place based on management and staff input. But what about the social activities? Googling "virtual activities as a group" was a life saver! Thankfully during this pandemic, a lot of companies have held virtual events, so a lot of useful information is available. But it was important to find activities that would be appealing and appropriate to do at home. Normally, I have a team from our retreat location doing work on the backend, so this year was no different. With the AMAZING help from Ruby Nash and Karen Russell, we came up with a variety of fun activities for the staff to enjoy each day.
Each morning, we offered staff the option to do a live yoga class with Upper Valley Yoga, Zoom walks with coworkers, or coffee talk on a new social platform in beta testing called High Fidelity.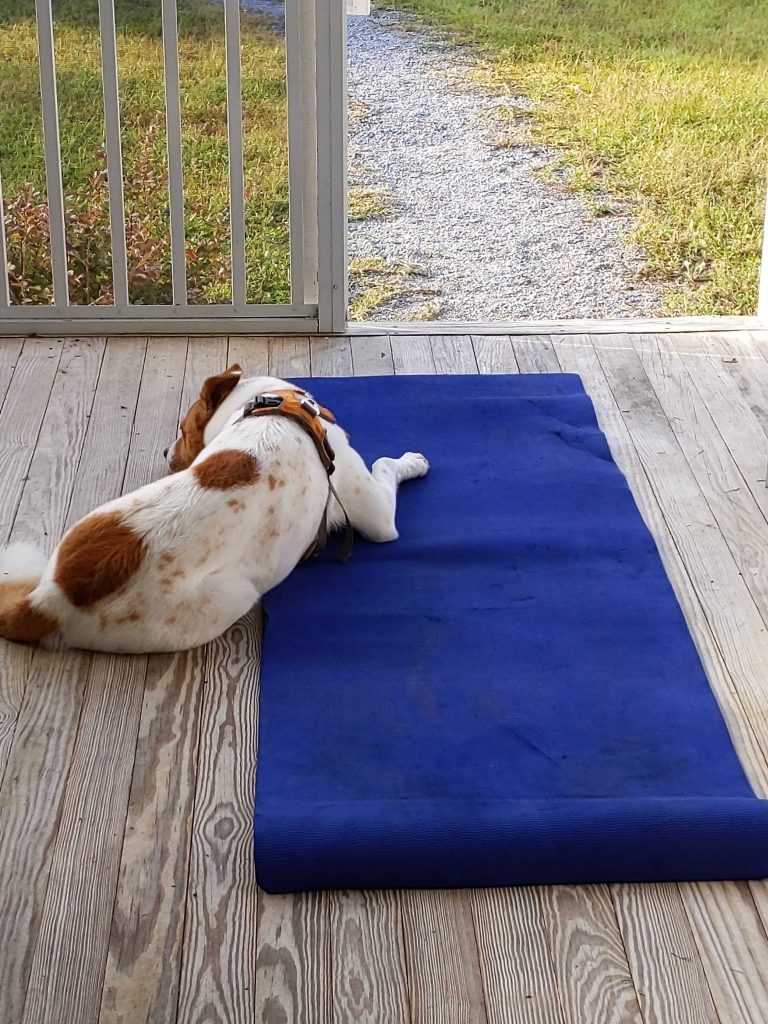 The High Fidelity platform took some testing, but once we got the hang of it, it was pretty fun. It is essentially a virtual party room. Your avatar is in a large "room," and you move around the room and talk to different groups of people. As you move closer to the group, their conversation gets louder, and as you move away, the conversation fades, just like a real in-person event. Once we worked out the kinks, it was a nice way to have small talk each morning.
We also peppered in some fun in between our working sessions with Pocket Songs, led by Patricia Norton. She taught us various, easy-to-learn songs that helped loosen us up after days full of on-camera meetings.
For afternoon activities, we came up with a nice variety each day for staff to pick from: scavenger hunt, learning to knit with Kristin Schrock, painting like Bob Ross, Kindness Rock painting, baking with Kit Cooper, a virtual escape room, and online Jackbox Games.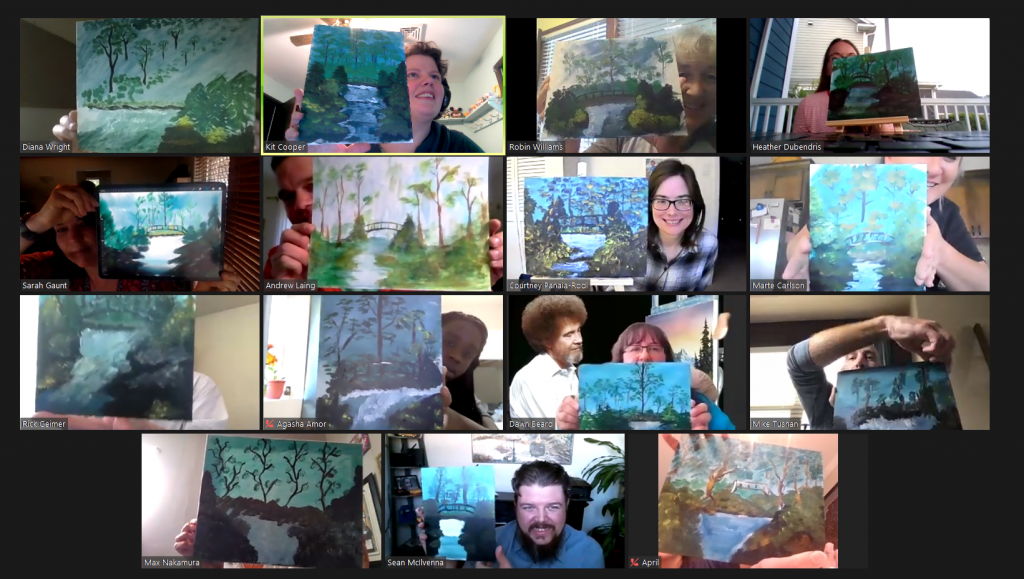 For evening activities, what could we do as a large group? Traditionally, we have a karaoke night, so we knew that was going to happen. We kicked off our evening activities on Monday with Ice Breakers. It was a good way to get together, get to know each other better, and find common interests. On Tuesday night, we had an intense trivia match. We have some VERY competitive people at Lantana. On Wednesday, we had our annual karaoke night. While it was very different than being on stage, in person, we had fun with some great singers.
Thursday was our final full day of the retreat. In the afternoon, we held our annual awards which are given out for accomplishments made by our colleagues throughout the year such as Team of the Year, Communicator of the Year, and It's My Company! Management stresses every year that the awards are so hard to do, as each and every person at Lantana deserves one. We finished our last day with our all-staff slide show that consisted of photos from each person. This year's theme was "What's Outside Your Door?" Each staff member submitted a de-identified photo of their home environment, and then we guessed who lived there. After the guesses, a photo with the staff member in their outside environment revealed the answer.
This year we sent "goodie boxes" to each staff member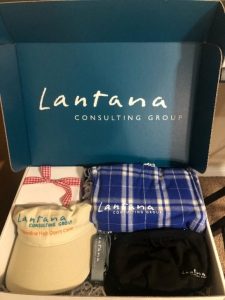 with very strict instructions to NOT open the box until they were told to. We opened them as part of the start of the Retreat. Staff got to choose a couple of the items and the rest was a surprise. The boxes included a "Quarantine Hair Don't Care" hat, Lantana pajamas, a mask, assorted caramels from Red Kite Candy in Vermont, a lanyard, and a WTF notebook for intense note taking.
So how did we make it all work? With the amazing support and help from our new friends at Zoom, we did weeks and weeks of testing to make sure everything was going to run without a hitch (well, as much as we could control). Each staff member had their audio and video tested to ensure quality and make sure everyone was familiar with the equipment. (This even resulted in a few new cameras). We also spent a few weeks before the retreat testing out Zoom lines on our regular meetings to get comfortable using all the features Zoom offers. I can't even tell you how many test calls we had, but it was A LOT.
And while 2020 hasn't been "normal" for any of us, our annual retreat was a huge success. It was good to see everyone all together, even while we are apart. We are even looking into holding a couple of smaller virtual retreats going forward. It will never replace being together in-person, but overall, it was a great week!