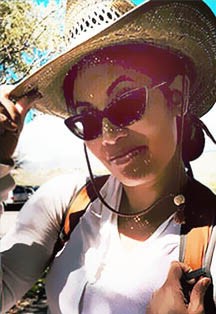 Fifteen minutes into the 2017 film Wonder Woman, my only thought was, "I want to work with them!"—the fictional Amazon warriors of Themyscira. While I haven't ended up performing heavy sword work and archery, I believe I've come across the next best thing: Lantana. Like the Amazons, my telework colleagues are brilliant and ready to share the successes and challenges of every project. It can be tricky. I can name my co-worker's kids and pets, and I can tell you who can boil the quickest egg (Marte)—but before October, I couldn't place a face with a name. Suffice to say, I was looking forward to Lantana's annual company retreat to dig deep into company life and see what our company culture was like when you only see all your co-workers once a year.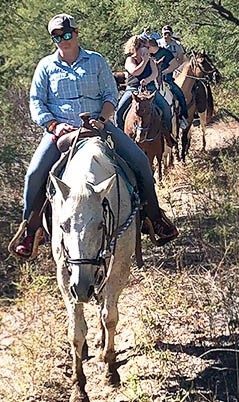 This year's annual retreat was held in Arizona, at the Tanque Verde Ranch in the Rincon Mountains east of Tucson. The original cattle ranch on the site dates to 1868, and by the 1920s had restyled itself as a "dude ranch." Now, as then, there's plenty to do. Some guests woke early to ride the winding horse trails and watch the sunrise paint the mountains in pinks and purples. Hiking trails offered the chance to enjoy the spectacular location and to learn more about its plants and animals. We also went mountain biking, fishing, and horseback riding. Groups played volleyball and games in the pool, or just lounged in the shallow end to swap stories. Others pursued artistic endeavors, such as watercolor painting and bookmaking.
Guests of the furry or scaly sort also made appearances—among the critters we spotted were javelina, skunk, lizard, tortoise, tarantula, rattlesnake, jackrabbit, and even a roadrunner. One night, I aggressively tried to call over what I thought was the ranch's golden retriever, Zora, who was off stalking something in the bush. The next morning, when I met the "real" Zora, I realized I may have been trying to pet a hungry bobcat instead!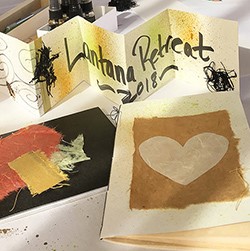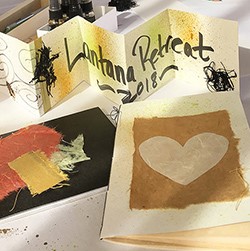 The meetings were quick, immersive ways to learn about the full range of Lantana teams and projects. The strategic planning and business development sessions, often including guest speakers and facilitators, helped me understand the company's goals for growth.
Perhaps the most poignant, and sobering, moment of the retreat was hearing Liora Alschuler, our CEO, share her thoughts on the recent findings of the UN Intergovernmental Panel on Climate Change (IPCC) (download full document here). According to the IPCC report, current levels of greenhouse gas emissions will bring the planet to the crucial threshold of 2.7°F above pre-industrial levels by as early as 2030, increasing the risk of extreme drought, wildfires, floods and food shortages for hundreds of millions of people. What is worse is that earth is already two-thirds of the way to catastrophe. Liora made a compelling argument that we all have to do our part, and at Lantana this includes the greenLantana initiative, which seeks to reduce the environmental footprint and impact of our business systems and practices. Every year Lantana purchases carbon offset credits to mitigate travel-related emissions, so we voted on projects to fund with the credits. I voted to restore and maintain America's grasslands as well as biogas production projects in Vietnam and other places in Asia.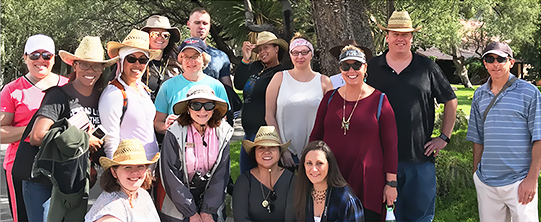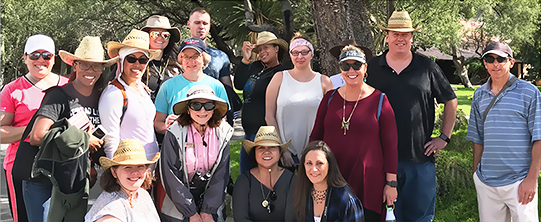 There's a lot at Lantana to like. Beyond being an "A-Team", environmentally conscious, business driven, ragtag group that can shred mountain biking trails one minute and discuss new players in electronic health records and patient data the next, what I really like about this group is how genuine they are about their peers, their work, and their world—much like the inhabitants of Themyscira. Maybe we're not (all) Amazons, but perhaps we could take up archery and sword fighting in the next retreat and be pretty darn close.