That Was the Year That Was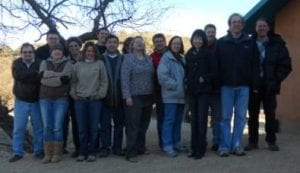 We are just wrapping up our fifth annual Lantana retreat here at the sunny, frigid and idyllic
C.O.D. Ranch
in Oracle, AZ. Looking back, it's been quite a year for us and for the industry. It's just a year since we brought the idea of a simplified CDA approach to HL7 and got the go-ahead to bring it to the community through ballot. We don't yet know the full extent of experimentation with
greenCDA
. We do know that there is
intense interest
and active develop (watch this space during HIMSS), and we expect to see more once the spec is published with the full set of C32-compliant schemas (target: Feb 17). At our retreat last year,
the CDA Academy
was a twinkle in the eye. Today we can look back and see that we brought it to beta test in April and graduated our first class in May and second in September. In both, we received high marks from students who unanimously reported that it met or exceeded their expectations. And we ate
really good local food
, enjoyed the
Dartmouth College
campus and took a full week to listen to requirements from developers and architects from every sector of the industry. The Academy is very popular here with the Lantana Group, we get as much from it as do the students. The best return has been alumni stories of successful application of the curriculum to their projects, maybe we can share some of those through this channel. The
Health Story Project
, which we support as Technical Managers and volunteers,
completed two DSTUs
initiated in 2009 and brought Progress Note from concept to completion. (We'll give you a heads-up once that is posted.) Last month, as we noted
here
, Health Story joined with HL7 and IHE to launch the first harmonization initiative under the
ONC S&I Framework
. Without fanfare, the Friday before the retreat, we released as Open Source under the Eclipse Public License a copy of the Access and mySQL
CDA Template Database
that we have developed under several umbrellas over the past three years. We'll have more to say about that shortly. In addition to participation in HL7's Work Groups, predominantly
Structured Documents
, Bob Dolin has completed his first year as the Chair of HL7. I'll let him crow about the great things he's done with the 10-15 hours of his time that goes to this volunteer activity each week. Oh, and, in addition to these projects and our paid consulting projects, since the previous retreat, we formed
Lantana Group.
In some ways, not a change at all from the way we've been doing business for the past 5 years and in some ways, an exciting opportunity to present our approach anew and to look ahead, which we will do in another blog shortly.