National Nurses Month 2023: Self-Care
It is that time of year again where we celebrate nurses and all they do. This year the American Nurses Association (ANA) has chosen the theme "You Make a Difference" and each week has a different focus-Self-Care, Recognition, Professional Development, and Community Engagement. The subject for Week 1 (May 1-7) is Self-Care, and it is dedicated to cultivating and maintaining optimal mental health and physical well-being. While it's especially important in high-stress fields such as nursing, self-care is for everyone!
What is self-care? While the term has become something of a trend, the practice of self-care is an integral part of maintaining your mental and physical wellbeing and should not be neglected. It involves actions that nourish the mind, body, and spirit, such as getting enough sleep, eating healthy foods, exercising regularly, practicing mindfulness activities like meditation or yoga, and engaging in creative activities like painting or writing. Self-care can also include:
• Doing things that bring you joy, like spending time with friends and family.
• Engaging in hobbies that make you happy.
• Simply taking some time to sit in silence and reflect.
Focusing on yourself and your wellbeing can help reduce stress levels, improve relationships, boost productivity, and increase self-confidence and overall mental health. Self-care is an essential part of living a healthy and balanced life.
Self-care looks different for everyone, so it's vital that you find what works best for you. Everyone needs to take time out of their busy lives to focus on themselves occasionally. Investing even a few minutes daily into caring for yourself can make a significant difference in your overall well-being. As simple as it can be, most people neglect to care for themselves.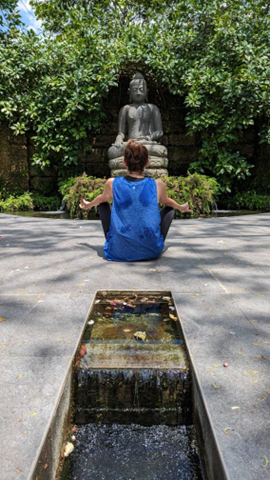 Psychology Today did a survey and found that 2 in 3 Americans do not practice any form of self-care. Most people find it hard to put themselves first. Life gets crazy, and while you end up helping everyone else, you often forget you need to help yourself.
There are 8 areas of self-care. They include mental, physical, emotional, spiritual, social, personal, professional, and medical aspects. Here are some self-care acts:
Practice mindfulness through meditation, yoga, or maybe breathing exercises.
Have some FUN!
Get outside and get some Vitamin D.
Listen to Music.
Spend Time with Friends and Loved Ones.
Know when to seek help. This can mean reaching out to a friend, making an appointment with your physician, or talking with a therapist or counselor.
Establish the difference between personal time and work time.
Focus on spending quality time with others.
Eat a well-balanced diet, but also Treat Yo' Self Once in a while! (Any Parks and Rec fans?)
Schedule your self-care. Set aside some time each week to focus on YOU.
Which of these will you put into practice today? Check out these links for more information:
https://www.goodgoodgood.co/articles/self-care-apps
https://www.healthynursehealthynation.org/
Here at Lantana, wellness and health is promoted regularly through activities, blog posts, and open forums, like our Wellness, Food Lovers, Travel, Book Club, and General Health News Slack channels. We also have free Health and Wellness Webinars offered by Cigna Healthcare.
Remember, looking after yourself is important to living a happy, healthy, and balanced life. So, make sure you take some time every day for self-care! Do not be afraid to take the time to prioritize yourself and your well-being!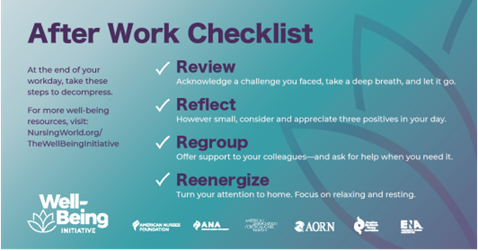 Blog by Kim Figueroa, BSN, RN