2017 Annual Retreat: My First Week at Lantana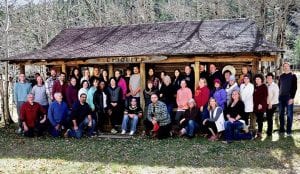 I started a new job last month, joining Lantana Consulting Group as a Public Health Analyst, and my first week there was a little out of the ordinary. Lantana is a distributed company, which makes it easier to hire the best people no matter where they live. The tricky part of working remotely, with no central office, is that it can be difficult for colleagues to feel connected. Part of Lantana's solution is the week-long annual retreat, where employees put faces to names, meet with project teams in person, and, most importantly, have fun!

| | |
| --- | --- |
| | This year's destination was Peaceful Valley Resort, near Lyons, Colorado. Employees traded reliable cellphone service and WiFi for hiking the nearby mountains and brushing-up on some essential outdoor skills—wildlife tracking; archery; and tomahawk-, spear-, and lasso-throwing. Those who prefer to stay indoors learned traditional crafts, like making candles, dreamcatchers, and medicine pouches. |
There were a few technological comforts as well, such as visiting a local pinball arcade and embarrassing ourselves at karaoke night, a Lantana tradition. My new boss and competitive powerlifter, Crystal Kallem, turned out to be a Wizard of Oz pinball prodigy.
| | |
| --- | --- |
| | The retreat isn't all fun and games, of course. Lantana takes a collaborative approach to strategic planning and the retreat is an opportunity for everyone, from old-timers to newbies like me, to speak up about the company's direction and the future of the health IT industry. Susan Hull, a nationally-recognized thought leader with more than 30 years of experience improving health through technological innovation, facilitated the planning sessions. I have not often—and certainly not on Day 1 of a new job—felt so welcome to share my opinions about a company's future. Lantana considers every employee an expert in his or her field and values input from each of us. |
| | |
| --- | --- |
| | Lantana is dedicated to sustainability, putting an informatics spin on "reduce, reuse": reduce the provider burden and reuse the data captured during the course of care. Lantana optimizes clients' health data systems to reduce paper waste, implements interoperable solutions to reduce administrative waste, and promotes sustainable internal business practices through the greenLantana initiative. This initiative helps employees reduce their environmental footprints as well as the environmental impact of Lantana's business systems and practices. Last year, Lantana purchased offset credits to mitigate travel-related carbon emissions. Employees voted on projects to fund with the carbon offset credits. This year greenLantana held its second annual vote on projects, and I voted for clean energy projects in India and South America, as well as rainforest conservation in several countries. |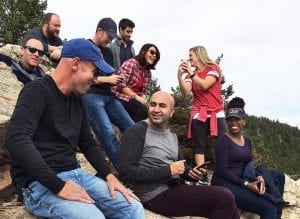 I jumped at the chance to work for Lantana, but the thought of a week in the mountains with strangers was intimidating. By the end of the week, I was sad to leave and knew I'd made the right career decision. I may miss the camaraderie of a shared office, but the benefits are clear: working with motivated colleagues who are world-class experts in their fields, for an industry leader with a company culture deeply rooted in causes I support. The company's founder, Liora Alschuler, explained her vision to me one evening over s'mores by the fire pit: "I wanted to create a company that I would want to work for."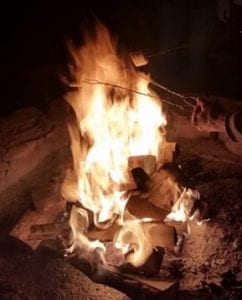 Click here to read about Lantana's 2016 annual retreat.