Co-author: Diana Wright
greenLantana is the name of our collective effort to measure, evaluate, and improve the corporate, social, and environmental impacts of our Lantana way of doing business. As the name suggests, our initiative emphasizes environmental responsibility and includes support for "corporate social responsibility"[1]and the "triple bottom line".[2]
Why invest in green practices and sustainability?
As a distributed consulting company working in heath information technology, measurement, evaluation, and improvement are native to Lantana, intrinsic to our work supporting value-based healthcare through quality measurement. Communicating our findings and reaching out to collaborate with like-minded initiatives is consistent with our contributions to the development of a shared, patient-centric record and information-driven care delivery. We think greenLantana is another channel to promote wellness for ourselves and our communities and we hope that this social good will become a feature of Lantana that current and prospective clients, partners, and employees value, emulate, and reward.
What can we do to go green?
With no two employees in the same physical place and no brick-and-mortar facility, the path wasn't obvious. We brought this question to our 2015 Annual Retreat and the brainstorming was prodigious. Thoughts ranged from metering our home office electrical usage to low-interest loans for home solar panel installation to an annual day of community service, either together or where we live.
We settled on three initial priorities: review of internal Policies and Procedures (P&Ps); travel footprint; and home office energy metering.
Our P&Ps for purchasing electronic equipment already require Energy Star computers and printers, but we don't have a company policy on office supplies. We order supplies centrally for home delivery – on review, we might constrain orders for paper and notebooks according to a green rating. We will do a thorough review, and see what else turns up.
On the plus side, our travel footprint is relatively low because our daily commutes are very, very short – a walk downstairs, down the hall and into another room. On the downside, we travel, usually by airplane, to meet with clients, partners, and each other. Our first step will be to get some numbers on the amount of travel by air and ground, followed by developing guidelines on choosing the type of transportation and purchasing carbon offsets to match our miles.
The third activity is an effort to measure and reduce home office energy use. We are asking for volunteers to measure home office electricity use with Watt meters like this one: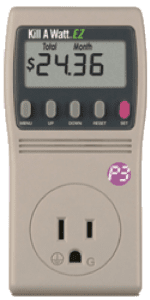 We'll provide the meters and, when we have some initial data, we'll take a look at the impact of turning off equipment at night and other steps.
Heating and cooling is harder to measure, so we might opt for a qualitative survey to find out where improvements can be made.
First green steps
This Friday, during our bi-weekly All Hands call, is our official launch date. We will be soliciting participants for these initial steps via our internal wiki and we will post about our progress as we assess, measure, and set our initial goals for improvement. We will also be reaching out to other distributed companies to see what they are doing to support sustainability and resilience in their work, and to learn about other initiatives to reduce the environmental impact of healthcare delivery.
We hope that Lantana can use our skills in measurement, collaboration, and communication to join with and inspire other distributed companies in our efforts to reduce energy and resource usage.
#greenHealthIT, #greenbiz, #greenLantana, #greenhomeoffice
[1] Actions that further a social good, beyond the interests of the firm and that which is required by law.
[2] An accounting framework with three parts: social, environmental (or ecological) and financial, also known as "people, planet, and profit".