Somewhere Out There is a Tiny Lantana Forest
One morning, a happy email from Marte, our Administrative Guru & Event Coordinator, popped into my inbox about trees: "From our items we have ordered from Eco Promotions, they have planted another tree on our behalf."
My first thought was, "Cool," and my second thought was, "Wait. Another tree? We have more?"
Among Marte's many tasks is managing our regular purchases of office supplies, such as paper and toner. On the hunt for eco-friendly, promotional items for a HIMSS meeting, she came across Eco Promotions. After she placed orders, she received an email about a tree planted on Lantana's behalf. She continued to use their services for other events, such as our annual retreat, because she enjoyed the quality of their products, their customer service, and their sustainability efforts. I asked Marte for more details. It turns out that Eco Promotions has planted three trees on behalf of Lantana.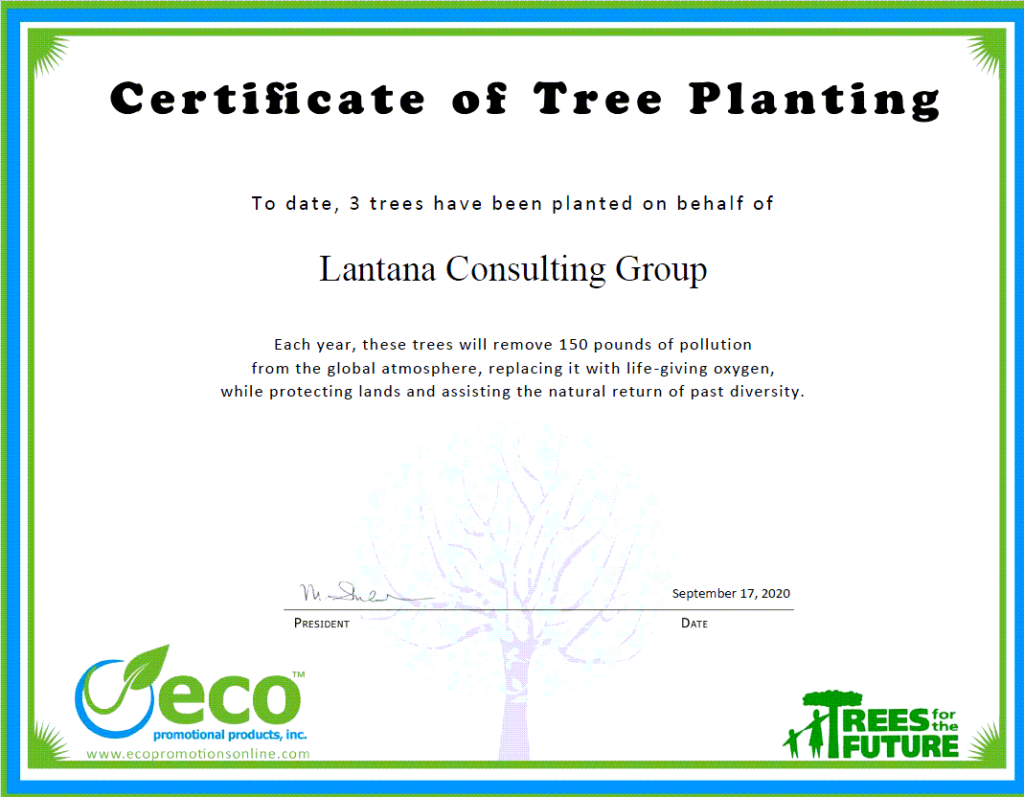 Marte always looks for eco-savvy purchases and deals for Lantana and chooses the products made with recycled materials or produced in a more sustainable way. Most products are purchased through Office Depot, and they are very clear in their product descriptions to make it easy to choose the more eco-friendly option.
I asked Marte how she felt about getting the certificate. She said, "The first time we got it, I was very excited. I sent it on to greenLantana right away and suggested they post it on our website! I was excited the 2nd time, too, but knew it would be coming. I just think it's awesome that they do a little something extra for the environment. Every little bit helps!" Her enthusiasm is infectious. I carried it lightly for the rest of my day!
It is important to celebrate all sustainability successes no matter the size because it is very easy to become overwhelmed at the facts and real-life events happening due to Climate Change. Three trees are impactful on a small scale but won't stop climate change by themselves. However, Marte's choice gave us three trees out there somewhere for Lantana to be proud of and share with the rest of the world. The greenLantana team loves to create sustainable solutions for our company and clients, and we also love to empower and trust employees to make sustainable and independent decisions on their own. Lantana works to be a strong link in the movement against Climate Change. We hope our employees and processes will choose sustainably-sourced resources to incorporate in what we do. We try to find ways to share what we do (hello, blog!) and why we chose to do it in a green way to inspire more employees, clients, and colleagues to do the same.
We hope that three trees may lead to three more trees. Over time, our green ordering practices and Marte's choices will plant a forest. We hope more people and companies see what we do and are also encouraged to look for better green purchases and create sustainable, internal practices. Then their trees become forests, and this pattern continues to other companies and industries. This is a way to play a part in solving the climate crisis. Thanks, Marte!