Public Health Analyst Series: Wendy's Journey
I grew up in rural northern Ohio playing outside and exploring the countryside—rain, snow, or sunshine. I loved being outside, active, and just playing in the dirt. I also loved school, especially biology and art class. I was good at both. I was expected to go to college, while my best friend joined the Army. Although I was a tad jealous, I was proud she was in uniform serving our country. Meanwhile, I headed to Allegheny College in western Pennsylvania. I debated whether to major in environmental science, biology, or art and even considered creating my own major combining biology and art for a medical illustration major. I finally settled on biology.
After my junior year of college, I interned with the Pennsylvania Department of Environmental Protection (PA DEP) as a "black fly intern." In my shiny red Pontiac Sunbird, I got to drive all over western PA, sampling rivers and streams for black fly larvae and casting my net in a figure eight pattern to scientifically, I assumed, sample adult black flies. My mission helped determine when PA DEP should spray insecticide to reduce these annoying insects so that residents and visitors could enjoy the abundance of outdoor recreational activities that the great state of PA had to offer. This was my first exposure of working for the government, but not my last!
Midway through my senior year of college, I passed the Basic Dysrhythmia test offered by St. Vincent Medical Center in Erie, PA. I ditched my job tossing pizzas for Little Caesars to become a Telemetry Technician. Eventually I took the Advanced Dysrhythmia test and worked full time while finishing up my final semester of college.
Two Distinct Paths
I decided to leave St. Vincent and worked as an outdoor instructor for Nature's Classroom teaching K-8 about the environment and animals in central Ohio. After having been mistaken one too many times for one of the students (I'm only 5 foot 2 inches on my tippy-toes and still relatively young myself), I decided for a change again. So, I joined the Army!
In the military, I was a combat medic (EMT certified!) and medical laboratory specialist. Luckily, I saw no combat and only deployed once for a humanitarian mission in Central America for a hurricane disaster relief effort where I flew by helicopter from El Salvador to Guatemala, Nicaragua, and Honduras to deliver blood products should the soldiers repairing roads and bridges need them.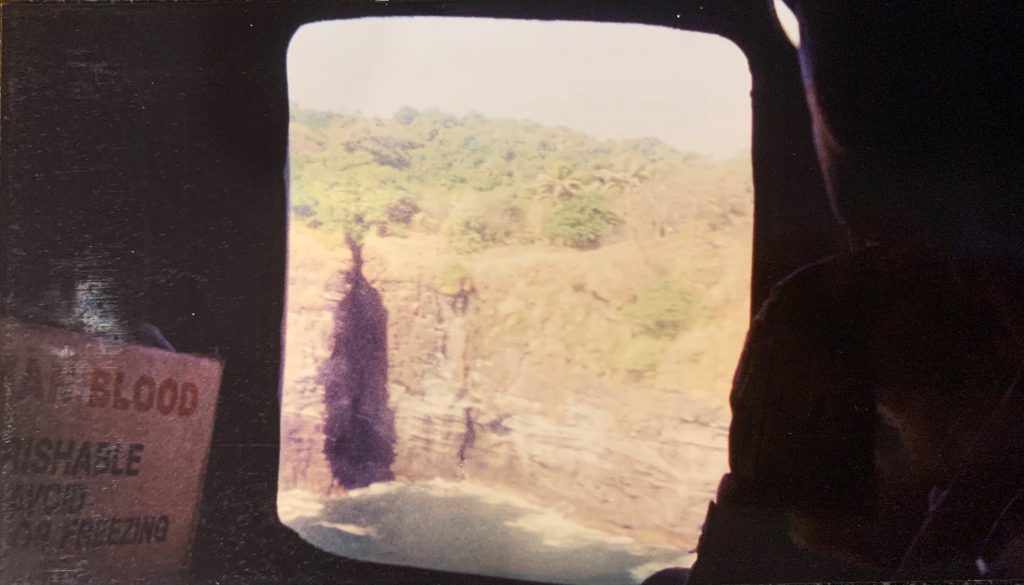 While many of my classmates got permanent duty assignments at air-conditioned Army hospitals throughout the US, I landed in a medical field unit at Ft. Bragg in hot and humid North Carolina. But hey, I was in the "Blood Platoon" – at least that sounded cool! We were responsible for the supply and distribution of blood products for the 82nd Airborne Unit, should we go to war. In the meantime, we held mobile blood drives on post to support the Armed Services Blood Program that supplied blood to service members and veterans. We took rotations staffing the medical clinic where we drew blood, collected urine, and performed basic chemistry tests on the samples collected. We also had rotations at the Blood Donor Center in the Womack Army Medical Center to staff the blood donation program where we separated blood into its components, typed people's blood, and performed other blood tests.
My "office" at the 32nd Medical Logistics Battalion at Fort Bragg. Alpha Company, Blood Platoon.
The variety of things I got to do while in the Blood Platoon was right up my alley, while also supporting an important mission. It was very satisfying. I also worked the weekends as a civilian lab tech at a large local medical center, gaining even more experience in the laboratory, primarily in the chemistry and hematology sections of the lab. My Platoon Officer must have noticed my enthusiasm because he encouraged me to apply to grad school for public health. I did and received my master's in public health from The Ohio State University (OSU).
While in grad school, I worked as an intern in the Epidemiology and Infection Control office at OSU Medical Center where I processed reportable disease case forms, quality of care reviews, and appeal procedure documents. After graduation, I worked at the Ohio Department of Health (ODH) where I was an Epidemiologist and then Epi Supervisor in disease surveillance, primarily STDs and tuberculosis. With increased responsibility came more administrative work and less technical work and analysis. I found myself longing to get back to SAS programming, so I applied for a part-time job moonlighting as a SAS programmer with a consulting company that had an Informatics contract with CDC/NIOSH.
That opportunity fell through, but I must have made an impression, or rather an important connection. Six months later I was asked to manage the multi-million-dollar contract, not just work part-time on a single project. Thus began my Project Management career! While in this role, I became certified in project management and continue to maintain my certification today. I also learned the similarities and differences in working for state government versus being a contractor supporting a federal agency. Once again, I felt the pull back towards hands-on work in public health, so after six years of doing strictly project management, I returned to ODH as an Electronic Laboratory Reporting (ELR) Coordinator and Data Manager in HIV Surveillance.
My mentor who hired me to manage the contract with CDC/NIOSH had consulted for Lantana and encouraged me to check out Lantana Consulting Group. Since 2015, I've been with Lantana as a Senior Project Manager supporting a variety of projects such as CDA and FHIR Implementation Guide development, electronic clinical quality measure development and maintenance, electronic case reporting, and internal software products.
I again felt the pull towards more hands-on public health work and Lantana offered me the opportunity to work as a public health analyst supporting the CDC as a subject matter expert for the National Healthcare Safety Network (NHSN) Antimicrobial Use and Resistance (AUR) Module while continuing as a senior project manager across a variety of CMS and CDC projects. For the NHSN, I help hospitals and software vendors properly aggregate and submit AUR data into this surveillance application by discussing the protocols and implementation guides, answering questions, testing their Clinical Data Architecture (CDA) XML files, developing and updating educational material, and giving presentations. I'm also the project manager for the AU and AR Synthetic Data Set initiatives.
After four years with Lantana Consulting Group, I believe I've struck the perfect balance for my interests in project management, informatics, and public health analysis. My days of screening for black flies are over, but I hope my days supporting government programs and the important missions that they are charged with will continue well into the foreseeable future!