October is American Pharmacists Month: What are Lantana Pharmacists Up To?
The Lantana pharmacists have been busy on work beyond the pharmacy, from optimizing how we get medication data out of electronic health records (EHRs) to supporting nursing home reporting of vaccination data. We are working to get healthcare data out of EHRs so that it's understood faster and better. We are working to understand medication treatment for hospitalized COVID-19 patients. We are helping U.S. hospitals to report on one of the most common hospital-associated harms, hypoglycemia (or low blood sugar), and we are supporting the development of COVID-19 vaccination reporting dashboards for the nation's most vulnerable patients, nursing home residents.
The COVID-19 pandemic challenged us to think about where and how to get pharmacy data about the medications being used to treat COVID-19 patients in U.S. hospitals. Treatment recommendations during the early phases of the pandemic were changing quickly, with more questions than answers about how best to manage hospitalized patients. The rapidly evolving nature of the pandemic—and the treatment guidelines—necessitated a more efficient and accurate approach to data collection than the methods we've relied on in the past—large claims datasets that are often proprietary with limited accessibility and generalizability. We leveraged the FHIR expertise of the Lantana engineers to test a FHIR query for inpatient medication data at the September 2020 HL7 FHIR Connectathon and with sponsorship from the HL7 Pharmacy Workgroup, successfully balloted an Implementation Guide for reporting inpatient medication administration to the Centers for Disease Control and Prevention's (CDC's) National Healthcare Safety Network (NHSN), the country's largest healthcare-associated infection (HAI) tracking system. This is an important step for recognizing the importance of medication use data in nationally-recognized healthcare data exchange standards. We are now working with academic medical centers to confirm and demonstrate feasibility across EHR environments and partnering with one of New York state's health information exchanges (HIE), HealtheConnections, to marry the FHIR query for medications to the rich source of HIE medication data to reproduce the results for a geographically and demographically diverse population.
The Lantana pharmacists have also been supporting the nation's efforts to report COVID-19 data from U.S. long term care facilities (LTCFs). This effort, led by CDC's NHSN, provides LTCFs with a secure platform to report COVID-19 related outcomes and process measures and allows them to assess the impact of COVID-19 on their own residents and healthcare personnel. The CDC initially began collecting weekly vaccination data through the LTCF COVID-19 Module on December 14, 2020, as a voluntary reporting system. Soon after, the Centers for Medicare & Medicaid Services (CMS) established specific COVID-19 vaccination reporting requirements for nursing homes effective May 13, 2021. The significant increase in COVID-19 cases and deaths, nationwide staffing and supply shortages, as well as the vast amount of COVID-19 related data presented us with a simple yet complex question—how do we leverage this data to deliver valuable information?
With the support of internal Lantana analysts and CDC expertise, we transformed the COVID-19 data into an easily understandable and visually compelling format, successfully rolling out the Long-Term Care COVID-19 module dashboard for assessing the impact of COVID-19 in nursing homes at the county, state, and national level. This dashboard, comprised of surveillance and point of care reporting, assesses the counts of residents and facility personnel newly positive for COVID-19 based on viral test results, COVID-19 related death counts among residents and facility personnel, staffing shortages, the availability and surge capacity use of personal protective equipment (PPE), and counts of residents and healthcare personnel receiving COVID-19 testing. This report aims to monitor trends in infection rates, assist in identifying resource insecurities, and inform progress toward infection prevention goals.
On the public facing side, we helped to develop and launch the Nursing Home COVID-19 Data Dashboard, a publicly available report that highlights the counts and rates of COVID-19 cases and deaths among nursing home residents and healthcare personnel. As the rates of COVID-19 cases steadily declined and the COVID-19 vaccination efforts increased, we developed and launched the Nursing Home COVID-19 Vaccination Data Dashboard | NHSN | CDC and the Dialysis COVID-19 Vaccination Data Dashboard | NHSN | CDC which assesses COVID-19 vaccination in residents and healthcare personnel based on facility-reported information. Our efforts to relay data within NHSN through data visualizations have proven successful and have increased the accessibility and quality of data while decreasing the burden of reporting on already stressed staff. Our goal is to introduce methodologies that enable data to be accessed, shared, and reported across the complete spectrum of care and throughout the CDC network.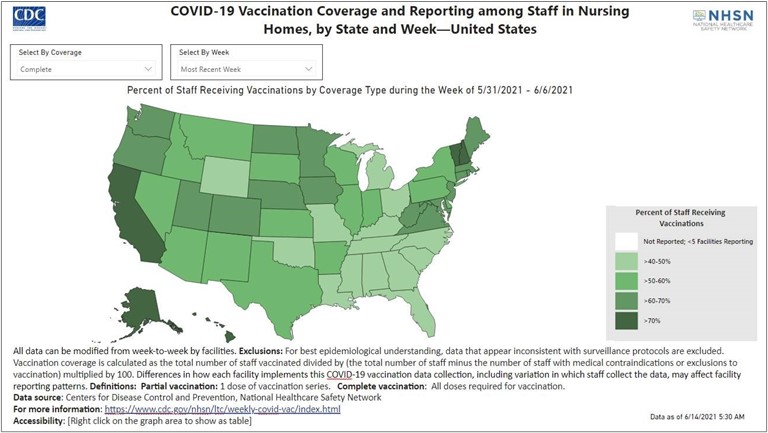 We are also laying the foundation for fully electronic surveillance of one of the most common harms in U.S. hospitals, medication-related hypoglycemia, an event usually caused by challenges in managing a patient's insulin and nutritional intake in the hospital. Using similar principles to get medication data out of the EHR, we are using FHIR to link medication data (diabetes medications) to a low blood glucose event. Our goal is to develop a fully electronic, vendor-neutral path to reporting and benchmarking hypoglycemia in U.S. hospitals to advance measurement and drive prevention. This initiative comes at a critical time as the Centers for Medicare & Medicaid Services (CMS) recently added two electronic Clinical Quality Measures to its Inpatient Quality Reporting Program, Hospital Harm – Severe Hypoglycemia (NQF 3503e) and Hospital Harm – Severe Hyperglycemia (NQF 3533e), which are "strongly encouraged" for reporting beginning in 2023.  
During this October 2021 Pharmacist's Month, we are reminded of the critical role pharmacy data plays in understanding our nation's health and in data exchange and interoperability advancements.