Non-COVID Patient Perspectives on Hospitalization During the COVID-19 Era
Navigating the healthcare system can be overwhelming during the best of times, but it's even more challenging during a public health crisis. Seeing the impact on the news and reading about it are different than experiencing it. These are our stories of medical emergencies during the coronavirus crisis.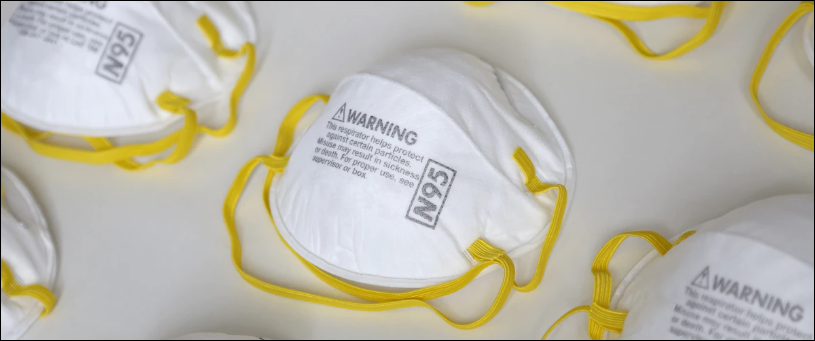 Krisden's experience – Patient Perspective
On April 17th, I had a firsthand experience of the new hospital normal during COVID-19. My journey began with a call from my doctor stating she received my CT scan results, and I needed to check into the hospital for emergency surgery scheduled for the next day. She also stated that I was not allowed to bring anyone with me due to the hospital's new safety precautions. I instantly began tearing up and wondered how I was going to make it without anyone being there with me. I took some time to breathe, gathered my things, and I was ready to go to the hospital. My friends drove me to the hospital and let me know that my mom was on her way to Nashville. As we approached the hospital butterflies flooded my stomach, I was not ready for them to leave me! Knowing that I had to face this alone was scary, but I knew having them enter could place them in potential danger. So we got out of the car, hugged and said a quick prayer and our goodbyes. As I entered the building, I was asked a series of COVID-19 screening questions and reminded that I could not have any visitors. The atmosphere felt weird. Everyone had masks on. We all looked at each other, hoping no one had COVID-19. Every second my fear of catching this horrible virus haunted my mind.
As the night nurse entered my room saying a kind hello behind her mask, she explained that no COVID-19 patients were in that part of the hospital (sigh of relief), and even though no known cases were reported within that building, I was still required to keep my mask on around others for safety reasons. During the morning of my surgery, I was asked again if I had recently had a fever or any signs of COVID-19. The staff checked my temperature, and I was off to surgery. After surgery, I was pleased to find that my mask was still on, and I was recovering in my room. Finding out that my mask still on reassured me that the hospital staff continued to follow all necessary precautions. A couple hours later I was discharged and ready to head home! As the nurse rolled me out, there stood my mom and friends waiting to take me home. What a relief!! I was glad to see them.
Although I was alone, I didn't have a chance to feel alone because of the great care and warmth that the entire hospital staff provided. They remained calm the whole time and continued to reassure me that everything was going to be ok.
Lynn's experience – The Family Perspective
My husband recently underwent emergency surgery. His initial symptoms were not alarming, but over the course of several days continued in intensity to the point that we felt the need to leave the safety of our home to venture out to see a doctor. Our day began at the urgent care clinic where we were stopped at the door to have our temperatures taken and answer COVID-19 screening questions. From there, we went to another location for imaging, where we went through the same screening process of temperature check and COVID-related assessment questions. By the time we arrived at the emergency department (ED), we were well-versed in the screening process. However, ED restrictions were even tighter than in other settings we'd been in that day. We were met at the door by a healthcare worker and security guard. Once they determined we were not symptomatic for coronavirus, my husband (the patient) was allowed into the building, but they had to determine if I would be allowed as a visitor because only designated caregivers were allowed. Fortunately, I met the criteria and was let in.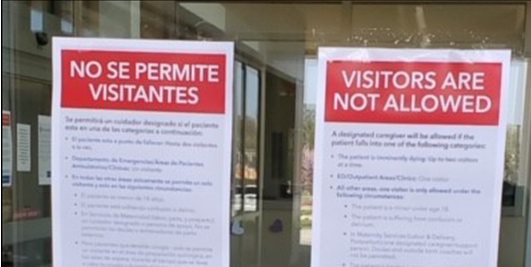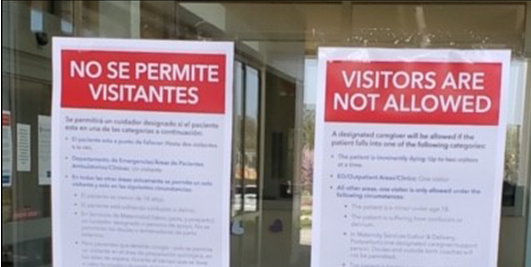 Once in the ED, I was only allowed to leave his exam room to use the bathroom. When they took him to surgery, I was escorted through the building to the surgical waiting area where I remained, alone, for almost three hours. I was allowed to see him for five minutes in post-op recovery and then escorted out of the building. After a grueling 13-hour long day in various waiting and exam rooms, I was on my way home. In every setting that day, I was the only person without any form of personal protective gear – no mask, no gloves, nothing – while everyone around me was covered in various degrees from head to toe. Talk about feeling vulnerable! Once home, hugging my kids had to wait until I showered and was in clean clothes in case I'd contacted the virus throughout the day. Every day afterwards I closely monitored all of us for any signs or symptoms of this disease.
My husband was hospitalized for four days following surgery. Because this was an unexpected event, he didn't have any essentials with him, let alone things to occupy his time while inpatient. I was allowed to drop off a few necessities for him on the second day, but the items had to be in a sealed bag and left at a desk in the lobby where a staff member would pick them up. Once again I was met at the hospital entrance and underwent the screening process to be allowed into the lobby. We kept in touch while he was hospitalized through calls and text messages. It was heartbreaking to get messages from him about feeling lonely and isolated, not understanding medical information being given to him, and lacking basic hygiene needs (no bath/shower during his stay, and he had to request a toothbrush).
Being in healthcare, I understand the actions being taken to combat the spread of COVID-19. But I wasn't prepared that it would make me feel like the healthcare workers enemy in the war against this invisible threat. As a nurse with a background in patient safety, this experience was beyond anxiety-producing. Hospitalized patients need an advocate at their bedside, but visitors were not allowed in the inpatient areas. Not being able to be with him as he recovered, not being able to be at the bedside , not being able to talk in person with his healthcare providers, wondering what was going on and having to rely on him for information was frustrating. I didn't know what discharge plans were being made, when they anticipated he'd be released, or if/how he was improving each day. When he was able to come home, I found myself wishing he could step into a decontamination shower before getting into the car. But since that wasn't possible, I had him keep his mask on and use hand sanitizer before touching the door handle. We semi-quarantined him at home, and I again monitored the family for COVID-19 symptoms for the next week
Despite the restrictions, my husband received great care. We are truly grateful to the healthcare workers on the front lines who are risking their health to ensure the health and wellbeing of others. Together, with everyone doing their part, we will get through this.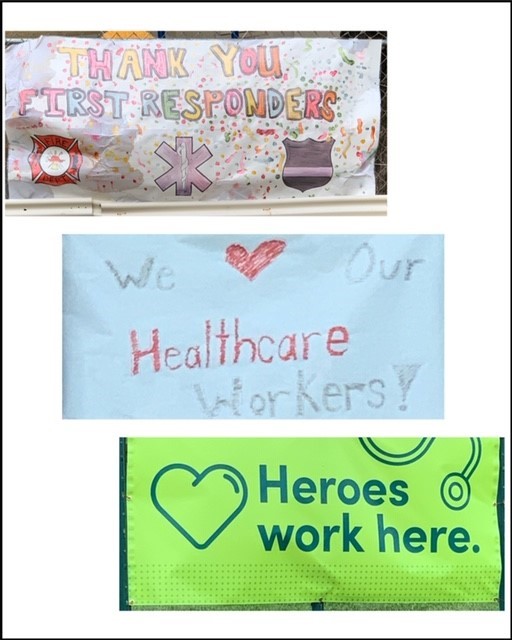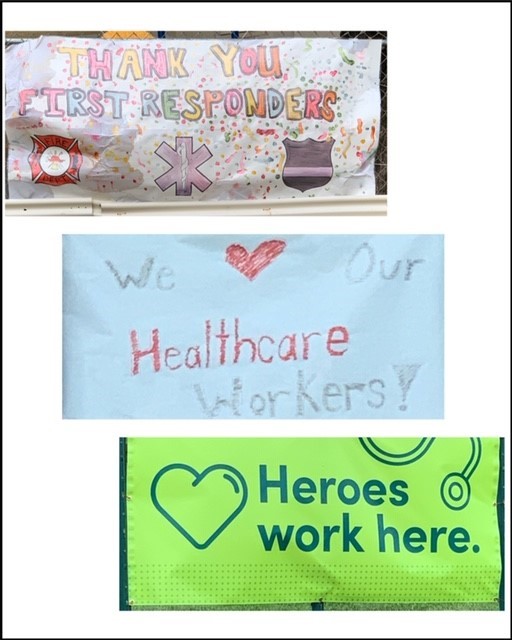 Our experiences make us wonder what the "new normal" will be for hospitalizations in the days to come. What components of these "temporary" COVID restrictions will become permanent? Or evolve into new safety precautions/processes? As the country begins to lift stay-at-home orders and other restrictions, will the general public think the virus is no longer a threat? Or will they delay seeking care or treatment out of concern for getting the virus? One thing we are sure of, we will emerge from this crisis, no doubt stronger than ever.