Lifelong Learning: Embracing a Mindset of Continuous Professional Development for Nurses
Nurses at Lantana are clinical experts who have transitioned from direct patient care to leading the digital transformation in health care through focusing on safety and quality and improving access to healthcare information. Offering nurses the chance to enhance their expertise and knowledge through professional development opportunities regardless of the practice setting can improve retention, recruitment and risk reduction.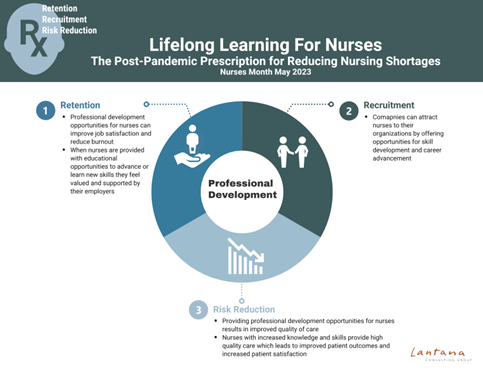 During the pandemic, a record number of nurses left or contemplated leaving the profession. While the current state of nursing is improving post-pandemic, a recent report from Nurse.org shows that nurses are still reporting high levels of stress, burnout, and lack of support. Clinician burnout poses a significant threat to the stability of our healthcare systems, as it is a major reason nurses are leaving the profession.
The aging baby boomer generation is expected to put a major strain on our care system as the population of elderly aged 65 and over will increase to almost 100 million by 2060. The nursing profession is vital for the health and stability of our healthcare systems. Promoting lifelong learning is crucial to ensure the retention of nursing professionals, the recruitment of new and experienced nurses and the reduction in threats to patient safety. Organizations can take several steps to promote lifelong learning among nurses:
Support continuing education opportunities such as seminars, workshops, online courses, certifications, conferences and degree programs by covering the costs and providing paid time off.
Provide mentorship and coaching to help nurses build relationships with more experienced co-workers as well as to develop more skills and knowledge.
Encourage participation in professional organizations. Nurses benefit from joining professional organizations which can include local, state and national organizations as well as specialty organizations in the fields of health IT, quality, and education. These organizations offer opportunities to network with other nurses and gain access to continuing education resources.
Offer incentives for learning: Healthcare organizations can offer incentives for nurses who complete certifications or advanced degrees in the form of promotions, bonuses and pay raises to encourage nurses to engage in lifelong learning.
Create a culture of learning: Healthcare organizations can foster a culture of lifelong learning by utilizing a just culture framework. A just culture encourages nurses to report errors without fear of retaliation and builds trust by encouraging critical thinking with learning for safety as the goal (Paridiso, 2019).
Through implementation of these strategies, healthcare organizations can support professional development and lifelong learning among nurses. This will ensure retention and recruitment of nursing professionals that prioritize improving patient outcomes. Continued learning among nurses allows them to keep pace with technology and digital health trends that are transforming the delivery of our healthcare systems. While professional development is essential for nurses, some companies may hesitate due to budget and time constraints, staffing shortages, lack of management support and resistance to change. It is crucial for organizations to recognize the benefits and return on investment of a culture of lifelong learning for nurses. According to the 2023 NSI National Health Care Retention & RN Staffing Report, the average cost of turnover for a staff RN is over $50,000. Companies that invest in their employees and embrace professional development foster job satisfaction by ensuring that nurses in all settings feel supported and valued.
Lantana values professional development and supports lifelong learning of their employees through personalized internal and external training from experts in the field of HL7 FHIR, Clinical Quality Language (CQL), and big data. Lantana provides reimbursement for conferences and industry events like the CMS Quality Conference, HIMSS, and HL7, which allow nurses at Lantana to stay on top of technology trends and innovations.
The long-term goal of professional development is not to only keep nurses at the bedside but rather to support and retain nurses within the profession by providing them with the skills needed to solve our current and future healthcare challenges.