Earth Day 2021: Lantana Partners with My Green Doctor
Lantana is celebrating Earth Day 2021 by announcing a new partnership with My Green Doctor, an environmental sustainability program for healthcare practices.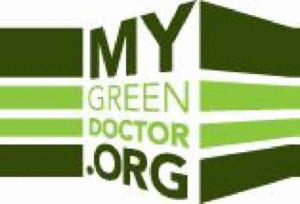 Our greenLantana initiative works on improving the long-term environmental benefits and sustainability of our own business operations and the wider health information technology industry. We see the flows of information as key leverage points for change toward better human health as well as greater sustainability and environmental wellbeing.
My Green Doctor empowers individual healthcare practices to reduce their environmental impact while saving money through easy-to-use tools and tips on energy, water, and material and chemical use. Clinics and practices sign up for free to use the tools, create green teams, and make significant changes while adding only 5 minutes of green team business to each regular management meeting.
Central to the organization's mission are two concepts: make green choices a part of every business and management endeavor in a healthcare practice and tell patients about those choices and activities. This strategy recognizes that healthcare providers hold a trusted and respected place in society. When people see their nurses and doctors prioritizing the need to reduce our impact and the health benefits of a clean environment, then actions in the clinic can inspire wider ripples in the community and homes.
And the potential for reducing the environmental impact of the US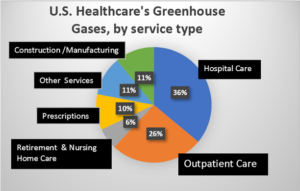 healthcare industry is significant. My Green Doctor provides information and links to research estimating that health care is responsible for 10% of America's smog-producing chemicals and the same share of greenhouse gases.[1] Local clinics and doctor offices have the potential to save money through sustainability activities because they are usually outside of a hospital setting and in office buildings that can be modified to be greener at a lower cost than their hospital counterparts.[2] For example, switching to high-efficiency lighting can reduce the energy needed for lighting by 75% resulting in lower energy costs for a doctor's office.[3]
Local medical providers can also set a good example to their patients by creating an eco-friendly space that promotes good patient and community health by adding hypoallergenic, living plants; increasing natural light; limiting single-use items; and adding information about local environmental advocacy, such as local food tours, health cooking demonstrations, public clean ups, etc.[4]  
The efforts of My Green Doctor and its members are increasingly important as we see the growing impact of health care on the environment and, conversely, the links between environmental degradation and human health. Researchers at Northeastern University, Yale University, and the Icahn School of Medicine at Mount Sinai have updated estimates of US healthcare greenhouse gas emissions and their impact on human health[5]:
Emissions rose 6% from 2010 to 2018, reaching 1,692 kg per capita in 2018—the highest rate among industrialized nations.
In 2018, greenhouse gas and toxic air pollutant emissions from healthcare resulted in the loss of 388,000 disability-adjusted life-years (DALYs) in the US.
The researchers conclude, "These results suggest that the healthcare sector's outsize environmental footprint can be reduced without compromising quality. To reduce harmful emissions, the healthcare sector should decrease unnecessary consumption of resources, decarbonize power generation, and invest in preventive care."
My Green Doctor is taking seriously that call to reduce the environmental harm caused by health care by empowering and inspiring healthcare practitioners, knowing that they can empower and inspire their colleagues, patients, and communities. Lantana is proud to partner with My Green Doctor and join our efforts to make systemic change to their individual action work. We look forward to sharing ideas and inspiring each other!
[1] Slack, Todd. "Green" Offices are Healthier: New Analysis. My Green Doctor, 3 December 2020. https://mygreendoctor.org/green-offices-are-healthier-new-analysis/ Accessed 20 April 2021.
[2] Perry, Phil. Greener Clinics, Better Care. September 2014. https://journalofethics.ama-assn.org/article/greener-clinics-better-care/2014-09. Accessed 20 April 2021.
[3] Continuum by CareCloud. Go Green! How and Why to Make Your Practice Eco-Friendly. https://www.carecloud.com/continuum/go-green-how-why-to-make-your-practice-eco-friendly/. Accessed 20 April 2021.
[4] Caldwell, Nicole. Go Green at Work: Easy Ways to Make Your Medical Practice Eco-Friendly. 21 June 2018. https://verdenviewpoint.com/2018/06/easy-ways-to-make-your-medical-practice-eco-friendly/. Accessed 20 April 2021.
[5] Eckelman MJ, Huang K, Lagasse R, Senay E, Dubrow R, Sherman JD. Health Care Pollution And Public Health Damage In The United States: An Update: Study examines health care pollution and public health damage in the United States. Health Affairs. 2020 Dec 1;39(12):2071-9. https://www.healthaffairs.org/doi/full/10.1377/hlthaff.2020.01247