A Passion for Geologic Disasters: Molly's Journey
The first time I felt an earthquake I was living and studying geology in Christchurch, New Zealand. Excitement and curiosity overcame the initial moment of fear. Although I found the few moments of feeling the ground move beneath me thrilling, I quickly remembered how devastating the major earthquakes a few months before had been to the community. In the classroom, I was learning about the processes that caused the disaster and in my day-to-day life I was seeing how it affected the community. This sparked my fervent interest in how mother nature dictates civilization.
After I finished my degree, my curiosity and interest in geology took me to the red rocks of the southwestern United States. I spent two seasons working as a National Park Service environmental education ranger at Grand Canyon National Park in Arizona. Thereafter, I traveled north to work on the precipice of the super volcanos of Yellowstone National Park. Although teaching environmental education was rewarding and fun, I desired something different. I decided to go back to school with the intention of pursuing my passion—geological disasters. During a year studying geomorphology, I continually asked "What about the people?" In the field, we would play a question-based game, asking one another questions such as, "Would you build a house there?" Understanding the processes that created a landscape made it simple to identify the hazardous places to live. It became evident that my interest wasn't so much in geology, but its implications on society.
I was focused on people and wanted a career that helped communities. Transitioning to Public Health combined my career ambitions and my personal values. I earned my Master of Science in Community Health from Montana State University (MSU) in Bozeman, working as a teaching and research assistant while studying. My research focused on students' perspective of the role of school counselors, which highlighted that students believe school counselors should be responsible for providing academic achievement counseling, career counseling, and social/emotional services. I enjoyed applying my experience teaching environmental education to teaching college students about epidemiology and program planning. As a research assistant, I helped manage an online cognitive behavioral therapy (CBT) intervention for adults and collected data to create an adolescent version of the CBT intervention. I was proud to play a small part in addressing Montanans' mental and behavioral health needs. Adolescent mental health challenges are consistently identified as a top health concern in Montana.
I also assisted in a project created in partnership by the nonprofit Messengers for Health and MSU Community Health Program called Báa nnilah. The project focuses on helping Native Americans, specifically members of the Apsáalooke (Crow) Nation, manage chronic illness. I loved interacting with people during data collection, and here I recognized the utility and importance of quality data.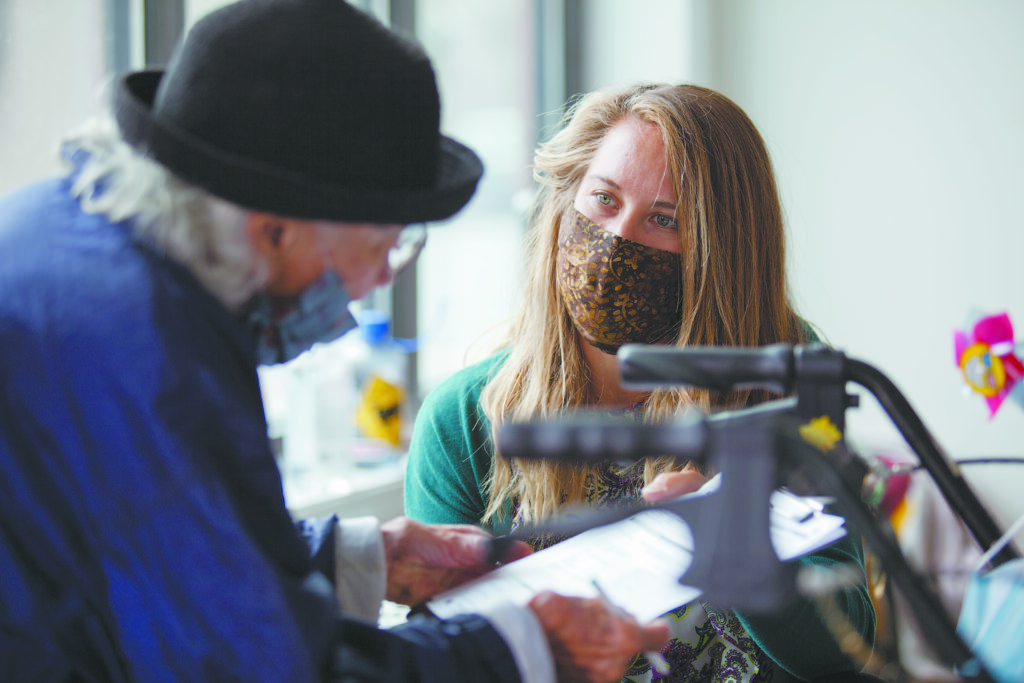 Just before I finished my master's program, I began working at my local health department in Park County, MT. It was April of 2020, and I was quickly immersed in every aspect of public health in a historic time, and I was fascinated. Working as a first responder during the pandemic was a frisson of excitement and stress, yet incredibly rewarding. I served as the Public Information Officer (PIO) and Planning Section Chief during the COVID-19 emergency. While serving as the PIO, I collected, synthesized, and disseminated information through a variety of mediums. Our health department was small, so everyone was integral in organizing mass community testing and vaccination events. One of my favorite projects was developing, organizing, and facilitating a community assessment for public health emergency response (CASPER). The data we collected helped identify the most pertinent needs of the community, post-disaster.
In addition to responding to COVID-19, my position involved working as a health promotion and outreach specialist. In this role, I focused on using best practices to deliver community-based education programs to encourage healthy choices. Health initiatives focused on tobacco prevention and behavioral health while bridging the gap to social determinants of health.
I was thrilled to seize the opportunity to contribute to large-scale public health initiatives at Lantana. I began my tenure here in February, and I provide public health expertise to support the Centers for Disease Control and Prevention's (CDC) National Healthcare Safety Network (NHSN). I enjoy leading outreach and coordination services with university hospitals, healthcare facilities, and healthcare exchange facilities that will pilot reporting new measure metrics to the CDC's NHSN.