Nursing Informatics Series: Marla's Journey
Over the past 25 years, my nursing journey has taken me down different professional paths. At each crossroad in my career, I used the Servant Leadership philosophy as my compass to guide my journey. During my master's program in nursing, I read Servant Leadership in Nursing by Mary Elizabeth O'Brien. I was finally able to put a name and framework to the philosophy that I had been applying to my role as a nurse and a nurse leader. Robert Greenleaf in his 1970 essay coined the phrase "Servant Leadership," and he identified a set of practices where leaders share power, put the needs of others first, and help others develop and perform as highly as possible. Whether I was serving patients as a bedside nurse or serving employees as a leader, I applied this philosophy and worked to create an atmosphere that empowered all which resulted in better outcomes.
Although I have held different positions over the years, the inherent role of nursing has stayed the same. Nurses have always been a vital part of the healthcare team by using their clinical knowledge and the willingness to learn and adapt to the changing healthcare environment. Informatics is now a huge part of the landscape which was brought about by the evolving use of computers in healthcare. This evolution started with helpful but incomplete DOS-based programs that had limited capability. Nurse Informaticists play a major role in the managing, mapping, work-flow adaptation, training, and all the necessary steps to create a health record and thus provide the best possible patient care across the healthcare continuum.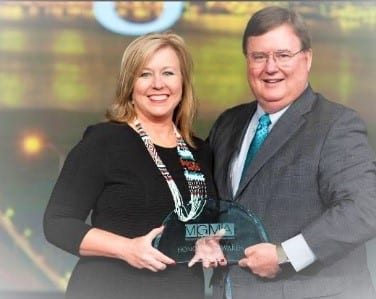 Receiving the Fred Graham Award for Commnuity Health Innovation at the 2016 Medical Group Management Association (MGMA) National Conference
As part of my nursing leadership and clinical operations role with the Absentee Shawnee Tribal Health System, I received a national award from the Medical Group Management Association for innovation in community health. The innovations were based on gaps in care that were identified by the data analytics obtained from the EHR and practice management software. In retrospect, I now see that I have been involved in clinical informatics as the technological advances that require thoughtful implementation and decision making have evolved throughout my nursing career.
To my surprise, my focus as a servant leader and doing what needs to be done has led me to become a de facto nurse informaticist.
This revelation became clear when I came to an unexpected crossroad in my journey. Lantana Consulting Group presented me with an opportunity to pursue a clinical analyst position. To stay true to my philosophy, I asked myself: Will this position allow me to be a servant leader? Will I be able to contribute to better patient and company outcomes? The answers were a resounding yes!
I accepted the role of a Senior Clinical Analyst with a clear conscience. My philosophy of servant leadership is still relevant as I have the privilege of being a part of healthcare's quality infrastructure and working for a company with a mission to improve healthcare through transforming health information.
By combining clinical and analytic knowledge, nursing informatics can truly impact healthcare at the bedside, facility, local, state, and national level for years to come.
My journey continues.