What Eligible Clinicians Need to Know About Proposed Changes to the Medicare Access and CHIP Reauthorization Act of 2015 (MACRA)
Co-Authored by Shirley Neal
The Medicare Access and CHIP Reauthorization Act of 2015 changed the way Medicare rewards clinicians for providing quality care. CMS released a proposed rule in April 2016 to carry out key provisions of MACRA and implement two payment paths available to "eligible clinicians" (EC) as part of the proposed "Quality Payment Program": (1) the Merit-Based Incentive Payment System and (2) the Alternative Payment Model Incentive. The proposed "Quality Payment Program" replaces the Sustainable Growth Rate (SGR) formula for paying eligible clinicians based on value and quality of care, which aligns with CMS's goal to replace Fee-for-Service (FFS) volume-based payment with a value-based system.
Merit-based Incentive Payment System (MIPS)
Under MACRA, three stand-alone quality reporting programs (Physician Quality Reporting Program (PQRS), the Value-based Payment Modifier (VM), and the Medicare EHR Incentive Program) are streamlined into MIPS. By the end of 2018, the rule would sunset payment adjustments under the current PQRS, VM, and Medicare EHR Incentive Programs for eligible professionals.
Eligibility: Affected clinicians are called "MIPS eligible clinicians" (EC), expanding the number of individuals covered by MIPS. ECs include physicians (MD/DO and DMD/DDS), physician assistants (PAs), nurse practitioners (NPs), clinical nurse specialists, certified nurse anesthetists, and groups that include such clinicians participating in Medicare Part B. The DHHS Secretary may broaden the types of ECs affected by MIPS beginning in 2021. ECs can participate in MIPS as an individual or a group.
There are three groups of clinicians who will NOT be subject to MIPS: (1) first year of Medicare Part B participation, (2) below threshold for low patient volume, and (3) certain participants in Advanced Alternative Payment Models. MIPS does not apply to hospitals or facilities. Hospital-based MIPS eligible clinicians are not required to participate in the information technology portions of MACRA, because they may not have control over the software used by the hospital.
Performance Categories and Scoring: MIPS introduces four weighted performance categories that establish a single set of reporting requirements used to determine payment:
Quality – based on PQRS
Cost – based on VBPM
Advancing Care Information (ACI) – based on Meaningful Use of Certified Electronic Health Record Technology (CEHRT)
Clinical Practice Improvement Activities
The MIPS composite performance score (CPS) will factor in four weighted performance categories on a 0-100 point scale. ECs will be able to choose the measures on which they will be evaluated.
Payment: According to the proposed rule, ECs will receive a positive, negative, or neutral adjustment based on the MIPS CPS. The potential adjustment will increase each year, from 4% in 2019 to 9% in 2022, with additional bonuses for the highest performers. ECs scoring at the MIPS performance threshold will receive no adjustment. ECs with composite scores above the MIPS performance threshold will receive a positive adjustment. ECs with composite scores below the MIPS performance threshold will receive a negative adjustment. The first performance period will begin in January 2017, with payment adjustments beginning 2019.
Payment Criteria: The CPS is calculated based on four weighted performance categories – cost, quality, clinical practice improvement activities, and advancing care information. The proposed CPS weights are illustrated in the figure below. ECs can choose to be assessed as an individual or as part of a group across all four performance categories. ECs are not limited to only report on Medicare beneficiaries because the overall care delivered to patients is evaluated.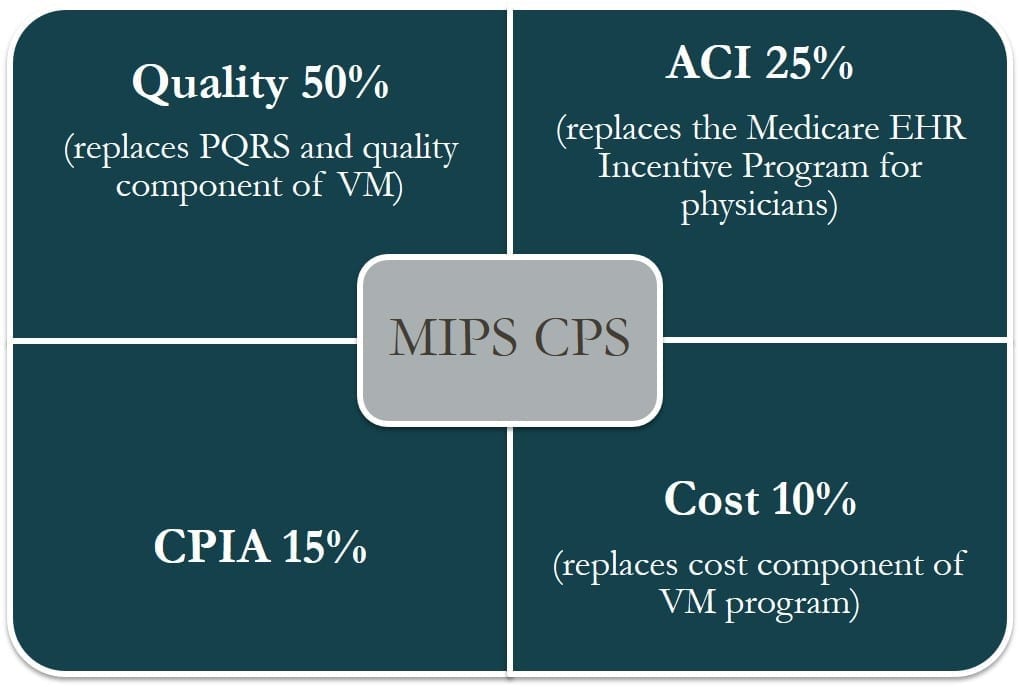 Advanced Alternative Payment Models (APM)
APMs give the Centers for Medicare & Medicaid Services (CMS) new ways to pay health care providers for the care they give Medicare beneficiaries, paying for quality and value. Accountable Care Organizations (ACOs), Patient Centered Medical Homes, and bundled payment models are some examples of APMs. An "advanced" APM requires participants to bear more than "nominal risk" in terms of accountability for quality and expenditure performance. APMs that meet the criteria to be Advanced APMs provide the pathway through which MIPS ECs can become Qualifying Participants (QP) and earn incentive payments for participation in Advanced APMs.
The APM must also meet the following advanced eligibility criteria for a provider to receive enhanced payment through a qualifying (Advanced) APM:
Use of a certified EHR technology
Use of quality measures comparable to measures under MIPS
Assumes more than a "nominal financial risk", OR is a medical home expanded under the CMMI authority
Eligibility: A MIPS EC receiving the designated percentage of Medicare payments or patients through a qualified, eligible APM, based on the above requirements, is considered a "qualifying APM participant" (QP). An eligible clinician will report through MIPS in the first year to determine whether the requirements for advanced APM participation were met.
Payment: Qualifying Participants will receive 5% lump-sum bonus Medicare Part B payments for 2019 through 2024, paid in addition to the APM-specific rewards. The APM payment adjustments and bonuses will begin in 2019.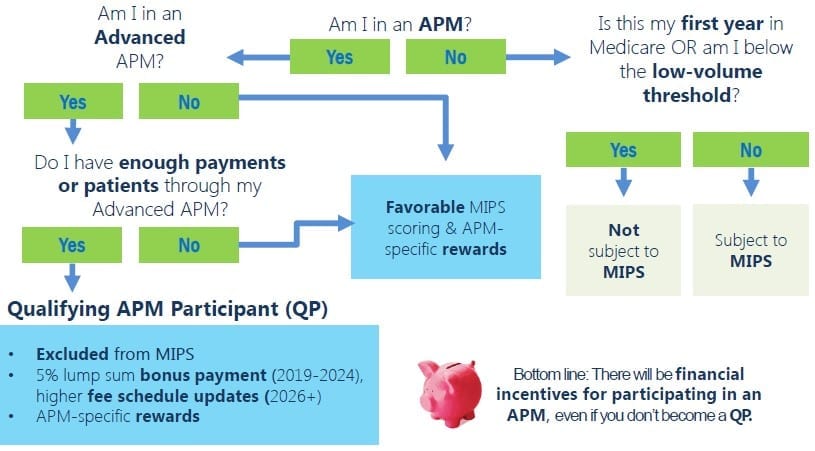 Source: Quality Payment Program Training, CMS
Summary
The payment system change under MACRA replaces the SGR formula with a more predictable payment system that provides ECs with an incentive to provide high-quality, value-based care.
Medicare Part B clinicians will participate in the MIPS unless they are in their first year of Part B participation, become QPs through participation in Advanced APMs, or have a low volume of patients.
The new payment system consolidates multiple quality reporting programs, while providing ECs flexibility to participate in measures and activities related to their practice and move between the MIPS and advanced APM track.
CMS will publicly report the MIPS and APM results on Physician Compare to help consumers make informed decisions
Payment adjustments and bonuses will begin in 2019.
Refer to the Notice of Proposed Rulemaking MACRA Fact Sheet for more information.